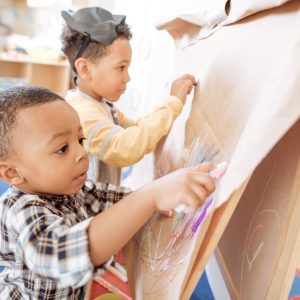 Gumedia Nutritional Sciences School has a robust curriculum. Our preschool's interdisciplinary approach
develops a deep interest and understanding in topics related to the sciences, technology, engineering,
mathematics, art, nutrition, character development, and mind plus body athletics. Our young scholars
actively enjoy the process of learning and seek knowledge because of our diverse weekly themes.
Additionally, we offer opportunities to experiment with individual interests.
At Gumedia Nutritional Sciences School, we engage in intentional teaching to set individualized learning
goals that are specific, measurable, achievable, relevant, and developmentally appropriate. We evaluate
and reevaluate the learning experience for each child according to different developmental scales that
include mathematical and scientific thinking, language and literacy, social-emotional development,
social studies, the arts, and physical development, health and safety, and character development.
OUR CURRICULUM
not only incites joyful structured-play but is also Montessori-inspired, STEM-focused, and indicator-based. Our early education classrooms are teacher guided; however, the child is given liberty in their learning. We support independence and the ability to self-regulate and to learn boundaries. Children that are more involved in planning and choosing how to receive their education are more likely to become lifelong learners and to avoid early academic burnout.
Preschool
The preschool classroom is truly focused on having diverse tactile and kinesthetic learning experiences.
Your child is fully immersed in school and being away from home for an extended period. They learn
routine and that everything has a time and place. Children learn to cooperate with their peers and
teacher. They enhance their ability to communicate verbally and non-verbally. They develop essential
self-help, emotional, and social skills like sharing and taking turns. We also follow the Field + Forest
Learning Through Nature / Exploring Through Play Curriculum to gradually introduce beginner concepts
in the fields of art, social studies, science, technology, engineering, and math.
Pre - Kindergarten I
In the Pre-K I classroom, we continue to develop the child's knowledge in the subjects like art, social
studies, science, technology, engineering, and math. The Pre-K I classroom, we introduce Story Time
Chess, which uses a captivating story-based curriculum. We will implement chess to teach children
strategy and other critical skills like planning and problem solving. We begin early literacy skills like
writing.
Pre-Kindergarten II
In the Pre-K II classroom, we continue to strengthen the student's proficiencies in science, technology,
art, social studies, engineering, and math. We continue to delve into the charming story-based
curriculum Story Time Chess to teach logical thinking and sustaining attention skills. We continue to
delve into the charming story-based curriculum Story Time Chess and to build on more multifaceted
literacy skills like presenting ideas in front of a group, building vocabulary to speak in full sentences, and
phonics.
Kindergarten
The Kindergarten classroom is truly a place to discover and explore the fields of social studies, science,
technology, engineering, and math through a teacher-directed, child led program. We also have a proprietary
early childhood global studies learning experience.
Our kindergarten class is our school readiness program where we focus on:
storytelling
reading comprehension
simple coding & robotics
writing/illustrating
following complex directions
effective communication
mindfulness and self-regulation.
SCHEDULE A TOUR to learn more about any of our programs and other amenities like our edible garden, extended hours, onsite gourmet kitchen, and Papaya Play Program that includes an indoor play space and outdoor playground.